Neural Xólotl aka 'Fabián Avila Elizalde' (Mexico, 1980)
Attended lessons of electric bass and jazz theory with Aarón Cruz and self-taught in electronic music. He got a scholarship for the Master Program in Music at Faculty of Music at UNAM (Music Technology area), and his research is about sound co-creation with soundscape, 'glitch' and 'databending', directed by Manuel Rocha Iturbide. Also at UNAM, he got cum laude in psychology's bachelor.

1st. place, collab with Javier Gómez, in IV National Videoart University Competition 'Visiones del Arte 2014', 4th. place in 'Music and Design Contest 2013', granted with fellowships for VIII and X International Festival on Music and New Technologies 'Visiones Sonoras' and got an economic support from FONCA. His work has been shown at 'MBA-MAC' of Bahia Blanca, 'Reina Sofia' Museum, 'CentroCentro', 'Matadero', Experimental Museum 'El Eco', MUAC and in festivals at Netherlands, Germany, United Kingdom and Mexico. His academic work has been selected at South Africa, Italy, Spain, United Kingdom and Mexico. He collaborates with 'Armstrong Liberado', a collective dedicated to free culture dissemination and creation of performance and sound experimentation artworks.

His works are about losing the loved ones, against totalitarianism and about memory: an analgesic echo of tenderness and fury.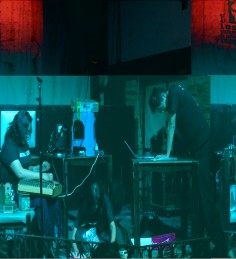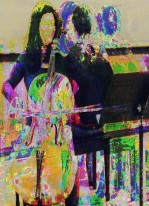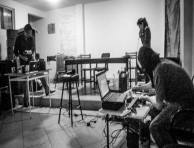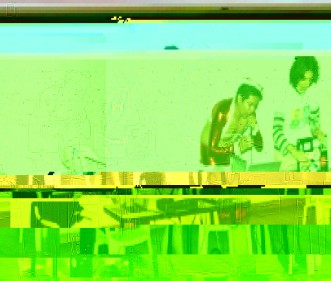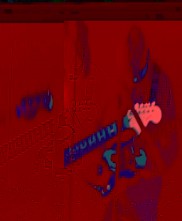 works [scroll down]
"Music for no conventional wind's quintet and voice, composed in popular's music format; she plays with classic counterpoint, freedom of improvisation and lyrics in the form of tenth poems, the latter according to Mexico's linguistic traditions; she suggests take away labels from music genres to enjoy her new and unusual chamber's ensemble".

For her album I made glitchy sounds in 2 pieces: 'Carta al árbol que cicatriza' (Letter to scarred tree) and 'Caminito de pistilos' (Little way of pistils). Album will be released on February 22nd. Her project was supported by FONCA.


PaDonna [2013 / 2014]
'Consuelo Ausencia' (Absence Relief) [2013 / 2014]
Composed by SuperCollider and performed by Ableton Live it goes from sine waves to soundscape, a journey from machine to nature, from death to living, from anxiety to tenderness.

Exhibitions:

Music Computing and Electroacoustic Music Laboratory (LIMME) @ Faculty of Music. UNAM, Mexico.

Live cinema and sound art 026 @ Faculty of Arts and Design. UNAM, Mexico.


Never-to-be-forgotten (Ulular Mambo Remix) [2013]
Which are the memories of a man and a dog in guerrilla? Does the dog remember his chant to calm babies? Does the man remember how he played soccer with his friends? Does both remember a lullaby? Does the dog remember his chant of happiness when the man came home every night? Maybe the man just wants to hear his mother's voice through walkie-talkies: "I love you so much, my love, and I'll never forget you".

Exhibitions:

Symposium on Acoustic Ecology 2013 @ University of Kent, United Kingdom.

PNEM Sound Art Festival 2013 @ Netherlands.

'Circo Volador'. Center for Art and Culture @ Mexico.
Kutsi Acalycanto (Suicidio de los insectos [Insect's suicide]) [2013]
This track is about nostalgia. Using all of the E7 chords, I build a really simple melody with some glitches and high frequencies. At the end, the sounds of a chair lacked of oil gives an intro for some radio recordings with women talking about lost relatives.

Awards and exhibitions:

4th. place in 'Music and Design 2013' Contest @ 'Circo Volador'. Center for Art and Culture, Mexico.

'Tolerancia Zero' @ 'Reactor' 105.7 FM, Mexico.







Inimaa Kjixioo [2012]
Made for the 60x60 Voice Mix open call. Inimaa Kjixioo means Heart Silence in mazateco, a native language from Oaxaca, Mexico. Based on number 60, I created a melody using the root and the minor or major sixth of some chords. I used a fragment from mexican national anthem, because I consider it extremely violent, sexist, and intolerant, so listening to an indigenous girl singing it, well, it's just sad. This piece is about silence, hope, and hearts, screaming against the extreme violence and authoritarianism in Mexico.

Exhibitions:

60x60 Voice Mix 2012 @ International Sound Art Festival at Mitte Museum, Germany.

60x60 Radio Extravaganzza @ Goddard College Community Radio, WGDR 91.1 FM, USA.

Sound and video art group @ Russia.

Plattenfilet @ Germany.
Violet [2012]
A lullaby for a girl into suicide, a chant for crying Earth, stealed memories from a YouTube's video, noise. I hope someday violence could be erased.

Exhibitions:

(h)ear Festival 2013 @ Netherlands.

Stramash with Ian Simpson @ United Kingdom.

Planttenfilet @ Germany.
Aurora + Julita + Yuriko [2009]
Lullabies to suicide, sad loves, lonely people in the cities. The poetry of Guadalupe Galvan says everything: 'Where is the Noah of these times? That who will build a New Ark for saving us from diseases, fires, storm. Where will he make a shelter for us to hide? Now only remains flee from mankind... Anguish on not recognize in words something of our own'.

Exhibitions:

'In-Sonora V'. Sound and interactive art exhibition @ 'Matadero'.
Center for Contemporary Creation, Spain.

'Transonica 2010' + 'In-Sonora VI' @ Soundtrack for retrospective video [just 'Yuriko', scroll right to watch the video]
Eugenia (for babies) + Eulalia [2008]
Dedicated to joy and unease of life. Lullabies for lovely girls into chaos, now they're married, with babies. Songs against death, but well, all of us are going there someday...

Exhibitions:

'Monitor Digital 2008' Festival of Digital Technologies @ CAAV, Mexico.
Collabs [scroll right]
'Botánica del Viento' (Botany of Wind) with Nur Slim (2015)
Francis I and Madonna chats a little bit while Joe Arroyo, a famous salsa's singer, goes into a Holy Mary. Then, some kids sings a song for Guadalupe's Virgin. Finally, a young man shares us about his uncle's murdered in a mexican prison. Picture made by Alejandro Chimal.

Exhibitions:

'In-Sonora VIII'. Sound and interactive art exhibition @ 'Reina Sofía' Museum and 'CentroCentro', Spain.

'Deep Trash Italia' @ United Kingdom.

Music Computing and Electroacoustic Music Laboratory (LIMME) @ Faculty of Music. UNAM, Mexico.

'Presente Perfecto' Festival @ Mexico.

Festival of New Information and Communication Technologies on Culture @ Mexico.


Xochimilco's Soundscape Lab at UAM-X (2015)
Autonomous Metropolitan University in Xochimilco [UAM-X] launched an open call to gather a transdisciplinary group of people to record Xochimilco's soundscape and create a radio program. For about 2 months we worked on theory and practice of field recordings. In the project also collaborated important institutions like 'Radio Educación', 'IMER' and 'Claustro de Sor Juana' University.

Performed @ 'Espacio Sonoro' [Sound Space], UAM-X, México.
'Destrucción de la Memoria' [Destruction of Memory] with Cristian Bañuelos (2015)
Using a pair of mobile speakers in backpacks, the work is a tribute to computers. What is the sound of a computer's memory? Wich are the sound of our files inside of them? Via databending processes, we build an audiovisual work about family memories, a kind of personal soundtrack made by machines: "To hear that which without the computer could not be heard; to think that which without the computer could not be thought; to learn that which without the computer could not be learned". All of the work was made with free software: Processing, Ardour, Audacity and SuperCollider.

Soon I will share the audio.

Performed Live @ MUAC [University Museum for Contemporary Art], México.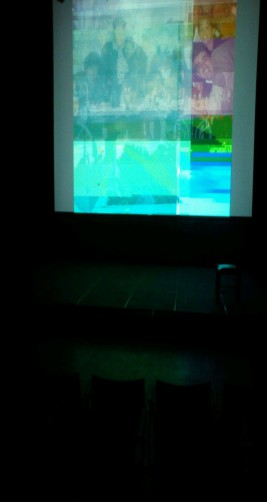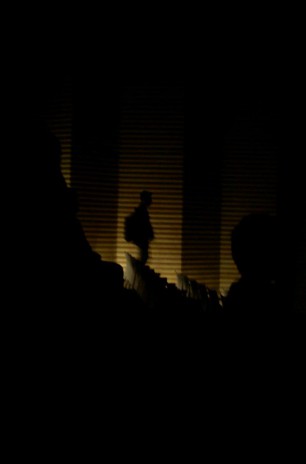 Several works with 'Armstrong Liberado' [2014 to date]
'Armstrong Liberado' [Free Armstrong] is a free music collective in which I often collaborate. Our works includes sometimes poetry or visuals or performance, or just sound. All of the work in 'Armstrong' is created with free software.

Scroll down for more videos and performances of 'Armstrong', some of them are really intense.

Collective has participated performing live at:

'Espacio Sonoro' [Sound Space] @ UAM-X | Centro Cultural Tlatelolco @ Mexico | 'Hackmitin 2014' @ Mexico | 'Random' 2nd. Sound Art Encounter @ Mexico | 'Poesía Expandida' [Extended Poetry] @ Dada and Bélgica 204, Mexico | 'Con el arte hasta la muerte' [With art until death] @ Faculty of Music (FAM). UNAM, Mexico | Several protests about Ayotzinapa's students dissapearings @ ENCRyM and FAM, Mexico | Anniversary Party @ Hackerspace 'Rancho Electrónico', Mexico | 'Colaborativo MX' @ Cultural Center from Spain, Mexico.
'Archivo de Recuerdos Náufragos' (Shipwrecked Memories Archive's)
with María José Alós [2014]
'Los Farsantes' (The Fraudsters) with Javier Gómez [2014]
This work is an invention of a new life. Using lost pictures inside forgotten packs in markets, María José Alós did and installation and both of us made this audio for it. The work explores memory through soundscape, singing, speaking and noise. It's a try for built a new memory, since both of us does not remember a lot from childhood.

Exhibitions:

'Galería Perenne' [Ageless Gallery] @ MBA-MAC of Bahía Blanca, Argentina | Sie7eOcho @ Mexico.
'Versus Pro' with Ornella Delfino and María José Alós [2014]
For this work, I made a sound piece and then Gómez produced a video about the violence and authoritarianism in Mexico. Angelica Rivera's speech to kids about closing their eyes, or celebrating Mother's Day when in Mexico there are thousand of missing people, when goverment do nothing for the dead and burned kids from 'ABC' Child Care Center. Some popular music from José José, a really famous singer, is used because of its messages about forgetting. A girl singing mexican national anthem while policemen hits young people, well, that's our goverment...

Awards:

1st. place @ IV National Videoart University Competition 'Visiones del Arte 2014', Mexico.
'Dusk' with Valiska (Canada) and Mii Yatogi (Japan) [2013]
This is the sound piece for an audiovisual work. Broken hearts, shattered loves, e-mails, facebook status and pictures, remixed popular songs, sounds from movies, soundscapes, lot of the stuff we share when we are in love and then, well, everything ends with solitude, sadness and hate gets into the game: all of those things are in this piece.

Performed Live @ 'El Eco' Experimental Museum, Mexico.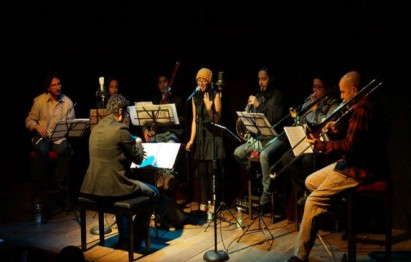 Valiska, Mii Yatogi and myself are miles away, but through Internet we create an audiovisual work. It's an ambient piece, it has nothing of conceptual stuff behind. It's only an experience of collab between people around the world, and that's just magic...

Exhibitions:

'Presente Perfecto' Festival @ Mexico.

Festival of New Information and Communication Technologies on Culture @ Mexico.


contact: fabxolotl@gmail.com
'3RR0R C4P4 8' (L4Y3R 8 3RR0R) with 'Armstrong Liberado. Colectivo de Música Libre'' (Free Armstrong. Free Music Collective) [2015]
Why am I post apart this work from 'Armstrong Liberado'? Well, it's because this was a bigger effort since it involves the making of a CD, its graphic design, and a compositional work from a common font of sound files. In this font were included sounds we employed during our improvisations and some new stuff from new participants in our collective. Every participant at Armstrong made her/his own piece. I can't tell you which one is my piece, because this long piece is about community, trust, friendship, tensions, misunderstandings and other stuff the emerges in the human relationships.

For the live performance we invited other persons to make some live intervention over the album playing. It was a really beautiful experience hearing the album with another sounds that will never be heard again.

Exhibitions:

Hackerspace 'Rancho Electrónico'

Recent Works (2015) at Bandcamp
Since right now I'm struggling with my thesis work for the master program, I want you to go into my Bandcamp site so you can hear my new works. Be well!

Also, you can hear new works at my SoundCloud Site:
https://soundcloud.com/venusmoctezuma
This proposal was a collaborative idea between Carmen Franco (Master in Social Services [UNAM]) and myself. The goal was to create a piece with young people from Yuguelito's Community, which it have some tensions with mexican goverment because the right for a living place. This activity was one of the hardest development because of the social conditions of every participant, which includes lack of money,, demanding jobs and other social problems.

Soon I'll share the audios I could recovered. In this experience I worked with Luis Kike Santiago, Miranda Miriam Niram Marín, ChuchoWer Dash, Axel UI Brown and Wendy Hernández.




Soundscape Composition and Failure Aesthetics Workshop with Yuguelito's Community (2014/2015)
31 Drops of Alcohol with 'Escuadrón de la Muerte' (Army of Death) [José Zamora, Alejandro Chimal and Neural Xólotl]
featuring Jorge David García and Edgar Olvera Yerena
In Mexico we call 'Escuadrón de la Muerte' to a group of homeless alcoholics. They used to be part of our streets when we were kids. So, José Zamora, Alejandro Chimal and myself were being friends for about 15 years; we have lived a lot of adventures with alcohol, parties, rock, drugs, porn and lot of youth stuff. This time we take a chance into sound improvisation along another very special friends for me: Jorge David García and Edgar Olvera.

We made a sound improvisation with the poetry by Zamora, moving percussions by Chimal, PureData and clarinet by García, visuals improvisation by Olvera and SuperCollider impro by myself. I think this was a magical moment because we have no rehearsals, Zamora and Chimal were previously unknown to García and Olvera and viceversa, so we went into an intimate moment with sound. I think it was really emotional!

Live Performances:

Live Cinema and Sound Art Sessions @ Faculty of Music. UNAM




Valentine's Day at Tepotzotlán with Gina Miranda (2015)
So what about friendship, trust, love? Gina Miranda and myself have been friends for almost 15 years. At Valentine's Day we went to Tepotzotlán for having some fun, eating and chating. So I gave her the recorder and we made a little soundwalk and she took this audio-scenes. I just mixed the piece a little bit.

This piece get along tha ideas by Luc Ferrari and John Levack Drever about making pieces by amateurs or non-artist persons. I think thiw kind of works are always incredible, because I listen things I could never think of recording before.


Soundscape Compositions
by 'Radio Abierta' [Open Radio] participants (2015)
'Paisaje Sonoro de la Discapacidad' (Disabilitie's Soundscape) with Elias Levin (2015)
(work in progress)
Sound Art Capsules for 'UAM Radio' (2015)
(work in progress)
Antonio del Rivero, Tania Nicanor, Dalia Islas, Noé García, Tatyana Gómez, Orlando Candia and myself are producing 5-minutes radio capsules for UAM Radio (Metropolitan Autonomous University Radio) about sound art issues: sound poetry, soundscape composition, hacktivism, listening, among others.

Our first 3 capsules have been accepted by UAM Radio directors, so we will produce 6 more. All of them will be broadcasted weekly with one repetition!

Our proposal is doing some really fresh productions, with a lot of quick changes, taking by inspiration Twiiter mechanisms and collage ideas. The point is we believe that productions related to sound art issues are sometimes so ceremonial and formal, so we decide to do more irreverent, but intense and serious productions.

This work is supported by 'Clon Cyberzine' and 'Espacio Sonoro' (Sound Space) of UAM-Xochimilco.

Right now I can't share the capsules, but soon I will.


If you search for sounds of disabilities, you will find them linked to horror or you won't find anything about the issue. In Mexico, society has been silencing them, and also taking everything to the extreme of corny and annoying dramatism.

Elias Levin, an art researcher from UAM-Xochimilco, is going into the search of the sound related to disabilities: interviewing people in streets, persons related to the disabilitie's treatment and sound artists. Also he made some sound improvisations with non-artists persons and artists to analyze the perceptions about disabilities.

He asked me to do a sound piece. So I take the idea using sounds that have been excluded: mics feedbacks, squeals, screams. I mixed them with music, stolen video's audio from YouTube, soundscapes and chants from the Holy Rosary that people sings in Mexico to passed away persons. Right now, I can't share the audios because the pieces will be exhibited until September.

However, Elias Levin gave us permission to share some sound improvisations by 'Armstrong Liberado. Colectivo de Música Libre' (Free Armstrong. Free Music Collective) featuring Çelic Ôlin (a woman doing some really awesome SuperCollider sounds). The last of these impros is really interesting because it was done without hearing via loudspeakers, a silent impro which we listen weeks later: We were really amazed with the piece!

This project was supported by CONACULTA and Espacio Sonoro (UAM-Xochimilco)


Radio Abierta is s project involving people with psychiatric conditions. They are coordinated by Sara Makowski, a psychology's researcher from UAM-Xochimilco, for making a radio show every week. Thanks to Antonio del Rivero we made a link for producing this pieces.

Four participants get involved in the project: Eunice, Iván, Ricardo and Sergio. The team by Espacio Sonoro was Iliana, Jesús, Orlando and myself. We made some soundwalks, listening exercises and field recordings with Radio Abierta's participants, taking as an important background the ideas by Hildegard Westerkamp and John Levack Drever.

Every participant was free to record anything from UAM-Xochimilco's facilities. Then, we get into the studio for produce the compositions with Audacity. In these sessions, participants decided to go beyond and record their voices, guitars or funny and intense scripts. Some kind of improvisation aura emerged during the process, leading to more complex pieces, beyond soundscape compositions, and making some enclosures to the ideas by Luc Ferrari about electroacoustic compositions by amateurs.

Radio Abierta web page: http://radioabierta.net/

Exhibitions:

Espacio Sonoro (UAM-Xochimilco)




'Xhipe. Colección de Verano' (Xhipe. Summer Collection) with
'Santísimo Colectivo YO' (Holy Me Collective) [2015]
(work in progress)
Taking the idea about the cruelties against humans and nature by the fashion world, we decide to make an interdisciplinary installations including clothes and cabinets design, sound improvisation with sewing machines and performance art. The installation will be exhibited at the subterranean parking lot of CENART (National Center for the Arts) before the end of July.

The project is supported bye Arte Hoy A. C., CONACULTA (National Commission for Culture and Arts) and other goverment instances.


'Mis XXY Años' (My Sweet XXY) with Lía 'La Novia Sirena' (The Mermaid Bride) [2015]
(work in progress)
The work will be performed on august at subway' facilities, best known as 'Metro', in Mexico City. Lía is a transgender performer, which works make a sentimental connection with audience through the use of a popular mexican ritual party: girls turning into 15 years old.

My participation will be a live music performance in which me and other musicians will make some smooth arrangements to played tracks for the dancing performances. Also, we will play some impros in a kind of 'furniture music'.

I'm sure it will be a beautiful and touching experience!

This collab is supported by the Master Program in Visual Arts and the Master Program in Music, both of UNAM (National Autonomous University of Mexico)